---
2021
---
Szijj, P., Chudasama, V.*
Nat Rev Chem, 2021, ASAP.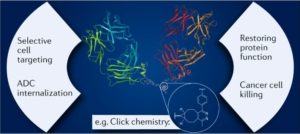 Abstract
Bispecific antibodies (bsAbs) target two different epitopes. These are an up-and-coming class of biologics, with two such therapeutics (emicizumab and blinatumomab) FDA approved and on the market, and many more in clinical trials. While the first reported bsAbs were constructed by chemical methods, this approach has fallen out of favour with the advent of modern genetic engineering techniques and, nowadays, the vast majority of bsAbs are produced by protein engineering. However, in recent years, relying on innovations in the fields of bioconjugation and bioorthogonal click chemistry, new chemical methods have appeared that have the potential to be competitive with protein engineering techniques and, indeed, hold some advantages. These approaches offer modularity, reproducibility and batch-to-batch consistency, as well as the integration of handles, whereby additional cargo molecules can be attached easily, e.g. to generate bispecific antibody–drug conjugates. The linker between the antibodies/antibody fragments can also be easily varied, and new formats (types, defined by structural properties or by construction methodology) can be generated rapidly. These attributes offer the potential to revolutionize the field. Here, we review chemical methods for the generation of bsAbs, showing that the newest examples of these techniques are worthy competitors to the industry-standard expression-based strategies.
---
2020
---
Sadraeian, M., Bahou, C., Ferreira da Cruz, E., Janini, L. M. R., Diaz, R. S., Boyle, R. W., Chudasama, V.*, Guimarães. F. E. G.
Int J Mol Sci, 2020, 21, 9151.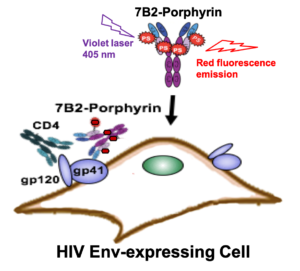 Abstract
Different therapeutic strategies have been investigated to target and eliminate HIV-1-infected cells by using armed antibodies specific to viral proteins, with varying degrees of success. Herein, we propose a new strategy by combining photodynamic therapy (PDT) with HIV Env-targeted immunotherapy, and refer to it as HIV photoimmunotherapy (PIT). A human anti-gp41 antibody (7B2) was conjugated to two photosensitizers (PSs) with different charges through different linking strategies; "Click" conjugation by using an azide-bearing porphyrin attached via a disulfide bridge linker with a drug-to-antibody ratio (DAR) of exactly 4, and "Lysine" conjugation by using phthalocyanine IRDye 700DX dye with average DARs of 2.1, 3.0 and 4.4. These photo-immunoconjugates (PICs) were compared via biochemical and immunological characterizations regarding the dosimetry, solubility, and cell targeting. Photo-induced cytotoxicity of the PICs were compared using assays for apoptosis, reactive oxygen species (ROS), photo-cytotoxicity, and confocal microscopy. Targeted phototoxicity seems to be primarily dependent on the binding of PS-antibody to the HIV antigen on the cell membrane, whilst being independent of the PS type. This is the first report of the application of PIT for HIV immunotherapy by killing HIV Env-expressing cells.
---
Szijj, P. A., Kostadinova, K. A., Spears, R. J., Chudasama, V.*
Org Biomol Chem, 2020, 18, 9018-9028.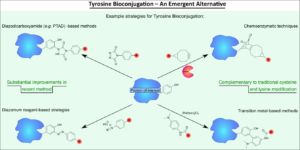 Abstract
Protein bioconjugation is an increasingly important field of research, with wide-ranging applications in areas such as therapeutics and biomaterials. Traditional cysteine and lysine bioconjugation strategies are widely used and have been extensively researched, but in some cases they are not appropriate and alternatives are needed or they are not compatible with one another to enable the formation of dually (and distinctly) modified dual-conjugates (an increasingly desired class of bioconjugates). Here we review the heretofore less explored approach of tyrosine bioconjugation, which is rapidly becoming a constructive alternative/complement to the more well-established strategies. Herein we present an overview of the field, and then focus on promising recent methods that can achieve high conversion and chemoselectivity. This suggests that not only can tyrosine bioconjugation be used in conjunction with cysteine and lysine modification to obtain proteins with multiple different modifications, it is also becoming a stand-alone alternative to these more traditional methods.
---
Wall, A., Wills, A. G., Forte, N., Bahou, C., Bonin, L., Nicholls, K., Ma, M. T., Chudasama, V.*, Baker, J. R.
Chem Sci, 2020, 11, 11455-11460.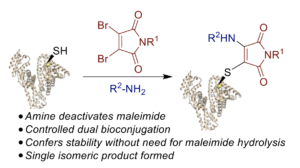 Abstract
Maleimide chemistry is widely used in the site-selective modification of proteins. However, hydrolysis of the resultant thiosuccinimides is required to provide robust stability to the bioconjugates. Herein, we present an alternative approach that affords simultaneous stabilisation and dual functionalisation in a one pot fashion. By consecutive conjugation of a thiol and an amine to dibromomaleimides, we show that aminothiomaleimides can be generated extremely efficiently. Furthermore, the amine serves to deactivate the electrophilicity of the maleimide, precluding further reactivity and hence generating stable conjugates. We have applied this conjugation strategy to peptides and proteins to generate stabilised trifunctional conjugates. We propose that this stabilisation-dual modification strategy could have widespread use in the generation of diverse conjugates.
---
Greene, M. K., Chen, T., Robinson, E., Straubinger, N. L., Minx, C., Chan, D. K. W., Wang, Burrows, J. F., Van Schaeybroeck, S., Baker, J. R., Caddick, S., Longley, D. B., Mager, D. E., Straubinger, R. M. Chudasama, V.*, Scott, C. J.
Br J Cancer, 2020, 123, 1502-1512.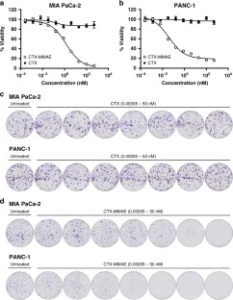 Abstract
Antibody-drug conjugate (ADC) construction poses numerous challenges that limit clinical progress. In particular, common bioconjugation methods afford minimal control over the site of drug coupling to antibodies. Here, such difficulties are overcome through re-bridging of the inter-chain disulfides of cetuximab (CTX) with auristatin-bearing pyridazinediones, to yield a highly refined anti-epidermal growth factor receptor (EGFR) ADC.
---
Shamsabadi, A., Maruani, A., Ahmed, N., Chudasama, V.*
Org Biomol Chem, 2020, 18, 6258-6264.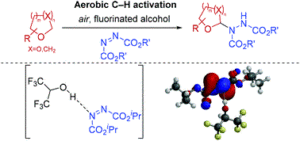 Abstract
Significant advancements in C–N bond formation via C–H bond functionalisation have made it a staple in the production of nitrogen-containing compounds in both industry and academia. However, transition metal-free synthesis, particularly in the case of C(sp3)–N formation, has remained a significant challenge to the synthetic community. Herein we report a procedure for α-C(sp3)–H amination of ethereal compounds through use of azodicarboxylates as the nitrogen source and freely-available atmospheric oxygen to access ethereal radical intermediates via aerobic C–H activation. The use of fluorinated alcohols as solvent is observed to greatly increase the efficiency of the reaction and we show experimentally and theoretically the key role of H-bonding between fluorinated alcohols and azodicarboxylates. Calculations of the condensed Fukui functions of a H-bonded fluorinated alcohol-azodicarboxylate complex correlates with a significantly increased susceptibility of azodicarboxylates to undergo reaction with radicals, which informs a number of recent reports in the literature.
---
Greene, M., Nogueira, J., Tracey, S. R., Richards, D. A., McDaid, W., Burrows, J. F., Campbell, K., Longley, D., Chudasama, V.*, Scott, C. J.
Nanoscale, 2020, 12, 11647-11658.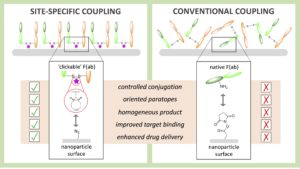 Abstract
Antibody-targeted nanoparticles have shown exceptional promise as delivery vehicles for anticancer drugs, although manufacturability challenges have hampered clinical progress. These include the potential for uncontrolled and random antibody conjugation, resulting in masked or inactive paratopes and unwanted Fc domain interactions. To circumvent these issues, we show that the interchain disulfide of cetuximab F(ab) may be selectively re-bridged with a strained alkyne handle, to permit 'click' coupling to azide-capped nanoparticles in a highly uniform and oriented manner. When compared to conventional carbodiimide chemistry, this conjugation approach leads to the generation of nanoparticles with a higher surface loading of cetuximab F(ab) and with markedly improved ability to bind to the target epidermal growth factor receptor. Moreover, we show that entrapment of a camptothecin payload within these nanoparticles can enhance drug targeting to antigen-expressing pancreatic cancer cells, resulting in superior cytotoxicity versus the conventional nanoformulation. Collectively, this work highlights the critical need to develop refined methods for the construction of targeted nanoparticles that will accelerate their clinical translation through improved performance and manufacturability.
Petri, L., Szijj, P. A., Kelemen, A., Imre, T., Gömöry, A., Lee, M. T. W., Hegedűs, K., Ábrányi-Balogh, P., Chudasama, V.*, Kesuru, G. M.
RSC Adv, 2020, 10, 14928-14936.
Abstract
Protein labelling has a wide variety of applications in medicinal chemistry and chemical biology. In addition to covalent inhibition, specific labelling of biomolecules with fluorescent dyes is important in both target discovery, validation and diagnostics. Our research was conducted through the fragment-based development of a new benzyl-isothiocyanate-activated fluorescent dye based on the fluorescein scaffold. This molecule was evaluated against fluorescein isothiocyanate, a prevalent labelling agent. The reactivity and selectivity of phenyl- and benzyl isothiocyanate were compared at different pHs, and their activity was tested on several protein targets. Finally, the clinically approved antibody trastuzumab (and it's Fab fragment) were specifically labelled through reaction with free cysteines reductively liberated from their interchain disulfide bonds. The newly developed benzyl-fluorescein isothiocyanate and its optimized labelling protocol stands to be a valuable addition to the tool kit of chemical biology.
Maneiro, M., Forte, N., Shchepinova, M. M., Kounde, C. S., Chudasama, V., Baker, J. R., Tate, E. W. 
ACS Chem Biol, 2020, 15, 1306-1312.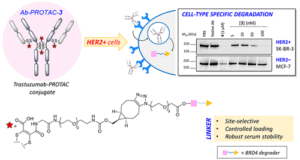 Abstract
Targeting protein degradation with Proteolysis-Targeting Chimeras (PROTACs) is an area of great current interest in drug discovery. Nevertheless, although the high effectiveness of PROTACs against a wide variety of targets has been established, most degraders reported to date display limited intrinsic tissue selectivity and do not discriminate between cells of different types. Here, we describe a strategy for selective protein degradation in a specific cell type. We report the design and synthesis of a trastuzumab-PROTAC conjugate (Ab-PROTAC 3) in which E3 ligase-directed degrader activity is caged with an antibody linker which can be hydrolyzed following antibody–PROTAC internalization, releasing the active PROTAC and inducing catalytic protein degradation. We show that 3 selectively targets bromodomain-containing protein 4 (BRD4) for degradation only in HER2 positive breast cancer cell lines, while sparing HER2 negative cells. Using live cell confocal microscopy, we show internalization and lysosomal trafficking of the conjugate specifically in HER2 positive cells, leading to the release of active PROTAC in quantities sufficient to induce potent BRD4 degradation. These studies demonstrate proof-of-concept for tissue-specific BRD4 degradation, overcoming limitations of PROTAC selectivity, with significant potential for application to novel targets.
---
Maruani, A., Szijj, P. A., Bahou, C., Nogueira, J. C. F., Caddick, S., Baker, J. R., Chudasama, V.* 
Bioconjugate Chem, 2020, 31, 520-529.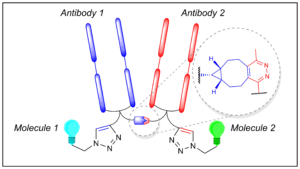 Abstract
Diseases are multifactorial, with redundancies and synergies between various pathways. However, most of the antibody-based therapeutics on the market interact with only one target, thus limiting their efficacy. The targeting of multiple epitopes could improve the therapeutic index of treatment and counteract mechanisms of resistance. To this effect, a new class of therapeutics has emerged: bispecific antibodies. Bispecific formation using chemical methods is rare and low-yielding and/or requires a large excess of one of the two proteins to avoid homodimerization and heterogeneity. In order for chemically prepared bispecifics to deliver their full potential, high-yielding, modular, and reliable cross-linking technologies are required. Herein, we describe a novel approach not only for the rapid and high-yielding chemical generation of bispecific antibodies from native antibody fragments, but also for the site-specific dual functionalization of the resulting bioconjugates. Based on orthogonal clickable functional groups, this strategy enables the assembly of functionalized bispecifics with controlled loading in a modular and convergent manner.
---
Xu, L., Raabe, M.., Zegota, M. M., Nogueira, J. C. F., Chudasama, V., Kuan, S. L., Weil, T.
Org Biomol Chem, 2020, 18, 1140-1147.

Abstract
An inverse electron demand Diels–Alder reaction between tetrazine and trans-cyclooctene (TCO) holds great promise for protein modification and manipulation. Herein, we report the design and synthesis of a tetrazine-based disulfide rebridging reagent, which allows the site-selective installation of a tetrazine group into disulfide-containing peptides and proteins such as the hormone somatostatin (SST) and the antigen binding fragment (Fab) of human immunoglobulin G (IgG). The fast and efficient conjugation of the tetrazine modified proteins with three different TCO-containing substrates to form a set of bioconjugates in a site-selective manner was successfully demonstrated for the first time. Homogeneous, well-defined bioconjugates were obtained underlining the great potential of our method for fast bioconjugation in emerging protein therapeutics. The formed bioconjugates were stable against glutathione and in serum, and they maintained their secondary structure. With this work, we broaden the scope of tetrazine chemistry for site-selective protein modification to prepare well-defined SST and Fab conjugates with preserved structures and good stability under biologically relevant conditions.
---
Nogueira, J. C. F., Paliashvili, K., Bradford, A., Di Maggio, F., Richards, D. A, Day, R., Chudasama, V.* 
Org Biomol Chem, 2020, 18, 2215-2218.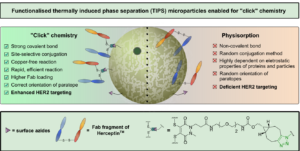 Abstract
Due to their homogeneity, tuneable properties, low cost and ease of manufacture, thermally induced phase separation (TIPS) polymeric microparticles are emerging as an exciting class of injectable device for the treatment of damaged tissue or complex diseases, such as cancer. However, relatively little work has explored enhancing surface functionalisation of this system. Herein, we present the functionalisation of TIPS microparticles with both small molecules and an antibody fragment of Herceptin™, via a heterobifunctional pyridazinedione linker capable of participating in SPAAC "click" chemistry, and compare it to the traditional method of preparing active-targeted microparticle systems, that is, physisorption of antibodies to the microparticle surface. Antigen-binding assays demonstrated that functionalisation of microparticles with Herceptin Fab, via a pyridazinedione linker, provided an enhanced avidity to HER2+ when compared to traditional physisorption methods.
---
72. Fine-tuning thio-pyridazinediones as SMDC scaffolds (with intracellular thiol release via a novel self-immolative linker)
Fernandez, M., Shamsabadi, A., Chudasama, V.* 
Chem Commun, 2020, 56, 1125-1128.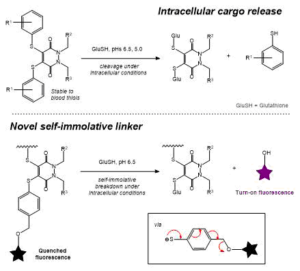 Abstract
Herein we report the synthesis of a library of thioalkyl- and thioaryl-pyridazinediones for thiol-based self-immolative release of cargo. A bisthioaryl-pyridazinedione is shown to be stable to serum protein albumin but unstable in intracellular conditions. A derivatised analogue underwent self-immolative degradation in cellular thiol conditions as evidenced by LC-MS/release of a turn-on fluorescence fluorophore; versatility of the thiol-pyridazinedione is demonstrated through synthesis of SMDC precursors that contain three different functional groups on the same central molecule.
---
2019